← Back to portfolio
Bruichladdich's Malt Whisky Academy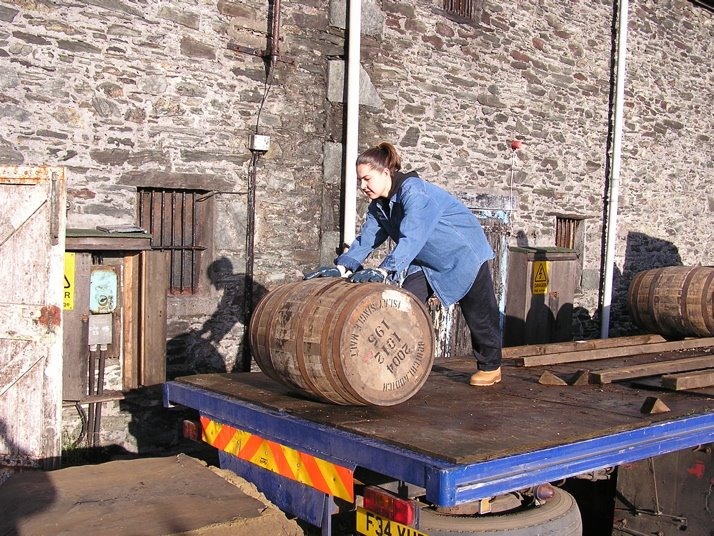 At Bruichladdich Distillery's Malt Whisky Academy, students are urged to participate in every step of the whisky making process, such as filling casks, cutting peat from 1,000 year-old bogs, and sampling some of the sweetest drams on earth. Rest assured—there isn't a blackboard or textbook in sight.
Thrice recognized as Distillery of the Year by Malt Advocate magazine, Bruichladdich Distillery resides on the Isle of Islay, a ferociously beautiful island in Scotland's Western Hebrides. Eight distilleries occupy this tiny bump in the Atlantic, making it the most distillery-dense region in all of Britain.
Those looking to experience the true essence of the Scotch whisky industry—the passion, the art, the dedication of its people—often choose Islay as their dream destination. Those looking for an even more intimate experience choose Bruichladdich's Malt Whisky Academy, where intensive, weeklong programs on the whisky-making process are offered to the public. And if Master Distiller Jim McEwan is on hand during their stay, students will meet a man whose zeal for whisky oozes from every pore. Warning: His condition is contagious.
The academy has graduated an eclectic cast of characters, including whisky aficionados, retirees, students, industry professionals, and a journalist named Sarah Lacamoire. Depending on the time of year, the size of the student body can range from one to thirty. During my own stay, I shared a desk with one accomplice only: Barry King, a retired Englishman who taught whisky master classes in his spare time. We had nearly nothing in common.  But our shared passion for whisky ensured that we became great pals. It wasn't long before we found ourselves gaily debating the benefits of psychotherapy versus the game of cricket with a dram in each hand.
Each morning, often before the sun had risen, Barry and I would brave gale force winds and a slew of mismatched rain drops during our three minute walk to "school." Over the next seven days, Distillery Manager Duncan McGillirvray took us under his kind, patient wing and immersed us in a wave of whisky education.
The week looked something like this:
Day One: Toured distillery, reviewed health and safety, felt silly in my uniform, drank whisky, felt less silly, drank more whisky.
Day Two: Learned about malting, milling, mashing. Introduced to cute distillery shop boy, drank whisky.
Day Three: Observed fermentation, succeeded in not passing out from wafts of CO2, meditated in distillery house, drank whisky with cute distillery shop boy.
Day Four: Rolled barrels into warehouse, devised plan on how to move to Scotland, drank whisky.
Day Five: Discovered the meaning of the life: Islay, learned bottling specifics, decided the Scottish accent is the sexiest on earth, reveled in a master class by Jim McEwan, drank whisky.
Day Six: Exam! Attended graduation, drank lots and lots of whisky.
Bruichladdich's crew was extraordinarily patient and helpful. No question was deemed too silly or absurd. The Scotch industry takes great pride in their spirit and is eager to share their knowledge with anyone who will listen.
On the final day, I was touched and amazed when the entire distillery crew arrived for the "graduation" ceremony. I giggled. Barry cried. Then Bruichladdich's adorable shopkeeper supplied us with a dram of Flirtation, the distillery's highly-toted, blush-colored whisky. Needless to say, I was already in love.