← Back to portfolio
Recipe Feature: Pumpkin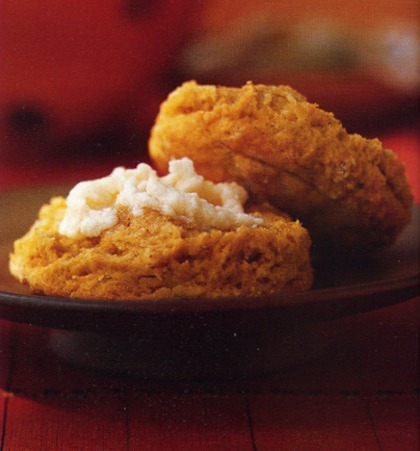 The pumpkin is a master of disguise: Cloaked in cream, eggs, or cheese, it cleverly conceals its nutritious bounty beneath a calorie-packed pie. Dressed judiciously, however, its role as a wholesome food becomes easily recognizable. Rich in fiber, potassium, and beta-carotene (an antioxidant that may help prevent heart disease and certain types of cancer), it can be a welcome guest at any health-conscious diner's table. At only 80 calories per cup, it's no wonder most jack-o'-lanterns smile.
This plump, wholesome fruit has been featured on Thanksgiving menus for almost 400 years, yet our modern recipe bears little resemblance to the pilgrim's svelte original. Capitalizing on its naturally delicious flavor, the colonists simply stewed the squash with vinegar, brown sugar, and cinnamon, or filled it with milk and baked it whole. Many of us, however, like to laden our pumpkin with extra fat and calories—a difference that costs us an average of 14 grams of fat and 300 hundred calories per serving. With its buttery texture and subtle, earthy sweetness, pumpkin doesn't require an army of rich ingredients to make it taste delicious. Often, a simple pat of margarine and sprinkling of fresh herbs or brown sugar will do.
While fresh pumpkin is available only a few months per year, the canned variety is a year-round resident at your local supermarket—giving you great reason to incorporate it into your daily diet. Not only is canned pumpkin undoubtedly easy to prepare—a couple twists of the can opener and you're done—it's just as nutritious as its fresh counterpart. It also tends to be more consistent in texture and flavor, making it the preferred choice for baking. But don't think you need to reserve pumpkin solely for baking sweets; its versatile flavor complements savory dishes, too.
Once a can of pumpkin has been opened, place the unused portion in an airtight container, and store it either in the refrigerator for up to one week, or in the freezer for up to three months. But with its ample health benefits and appeasing flavor, it's unlikely you'll have leftovers.
Original recipes written and developed for this article:
Pumpkin biscuits with orange honey butter
Pumpkin cream cheese soufflés
Savory pumpkin goat cheese tart
Pumpkin chestnut stuffing
Linguine with wild mushrooms and pumpkin gorgonzola sauce
Pumpkin mousse with candied pecans
Pumpkin sage polenta